"The AVWAP represents the absolute truth of the relationship between a stock's supply and demand, and is 100% objective." ~Brian Shannon~
Trade Ideas and Brian Shannon, Founder of AlphaTrends, have partnered to bring you a dedicated new channel that enables you to find great trading setups using the Anchored VWAP (AVWAP) indicator.
This add-on subscription provides access to the Anchored VWAP Channel, offering real-time alerts and AVWAP auto drawing on charts.
Please note: The Anchored VWAP Channel is available as an Add-On and requires an active Standard or Premium subscription.
Please note: You need to install and run Trade Ideas Pro AI version 5.6.46 or higher (Windows-only). The Web version and older software versions don't support the AVWAP.
Simply head to our Download Page to get it.
To access the Anchored VWAP Channel go to the Toolbar, open the New Tab and select Docked Channel Bar or Channel Bar: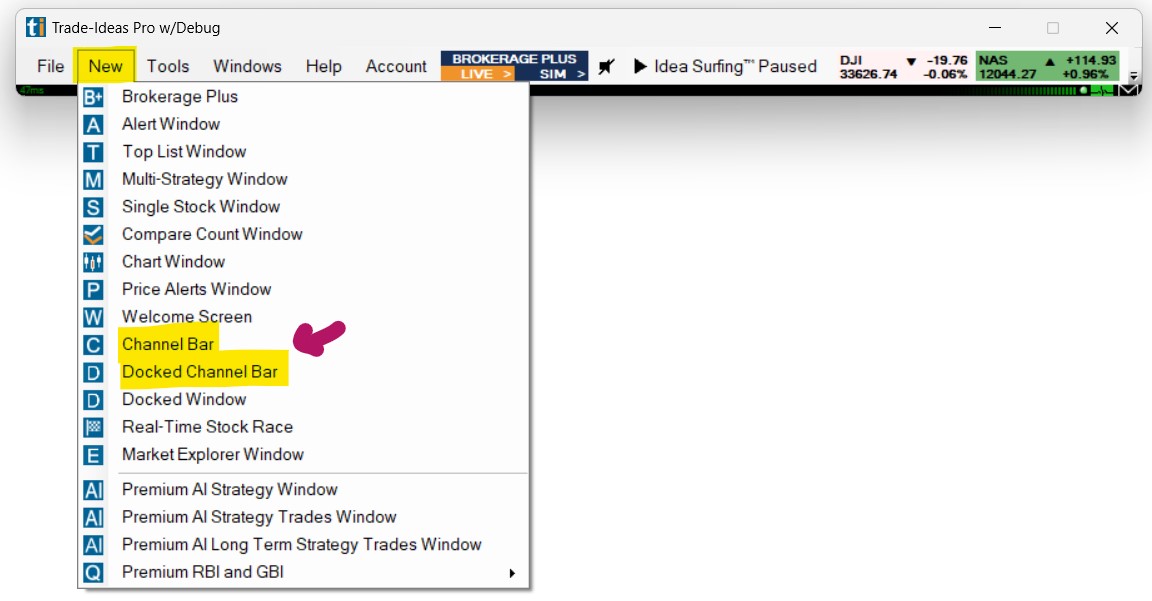 Next, load the Anchored VWAP Channel by clicking on the Channel icon: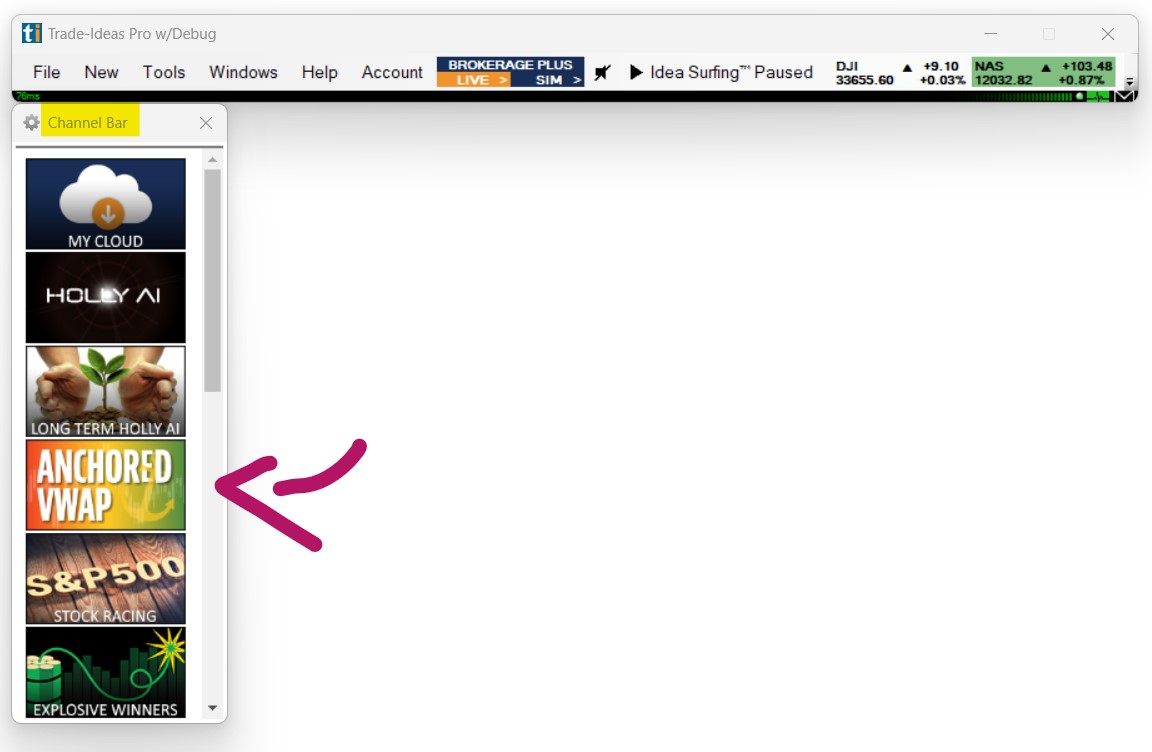 A set of charts, AVWAP real-time scans, as well as a Single Stock Window will open.
The Anchored VWAP will be auto drawn on the charts in a purple color for every symbol you select in one of the AVWAP Windows: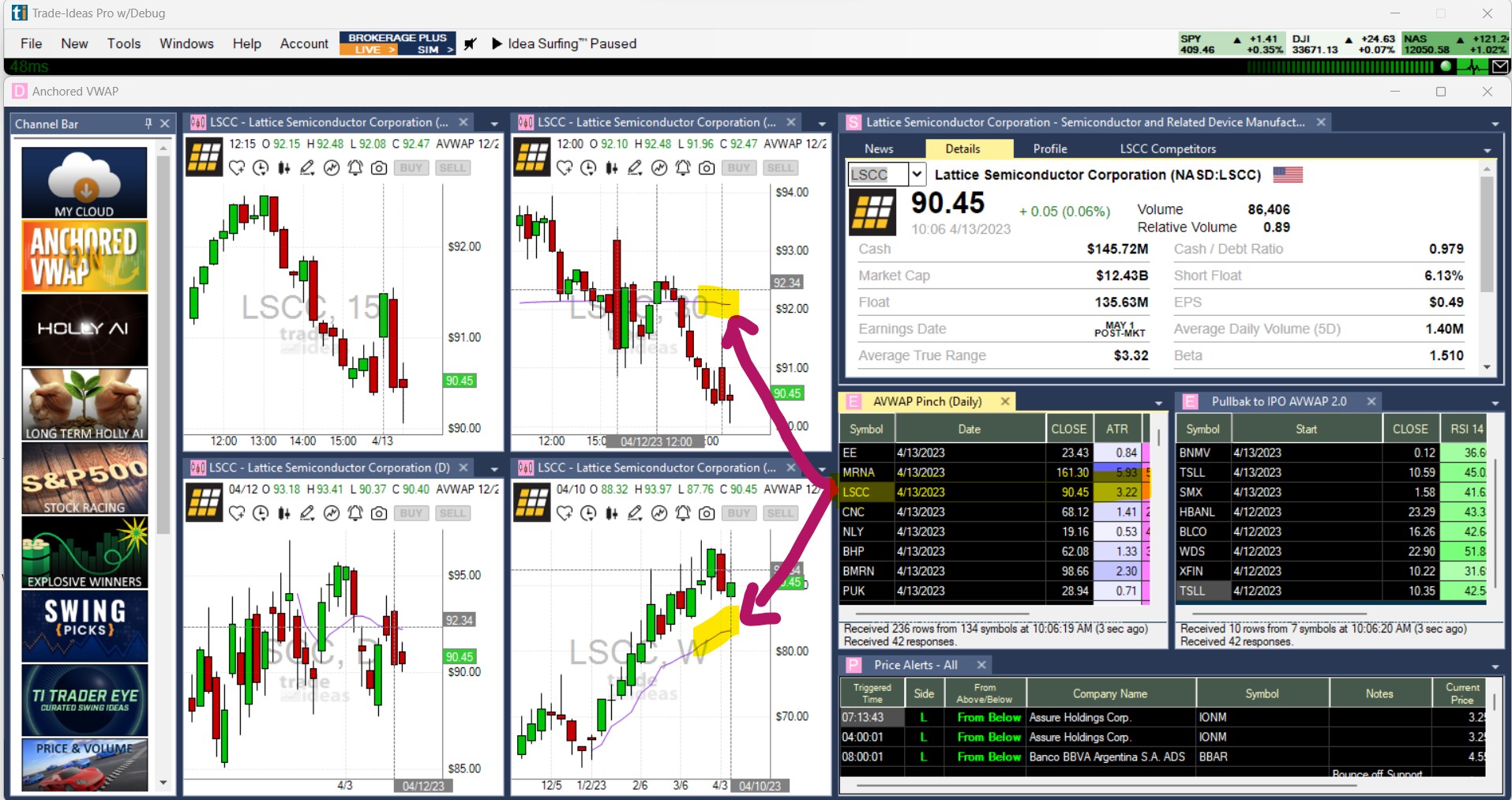 You can access further AVWAP scans by right-clicking into one of the displayed scans, choosing Select Strategy, then AVWAP and making a selection from the available scan.
Once a new AVWAP strategy is selected, it will load in place of the previous scan: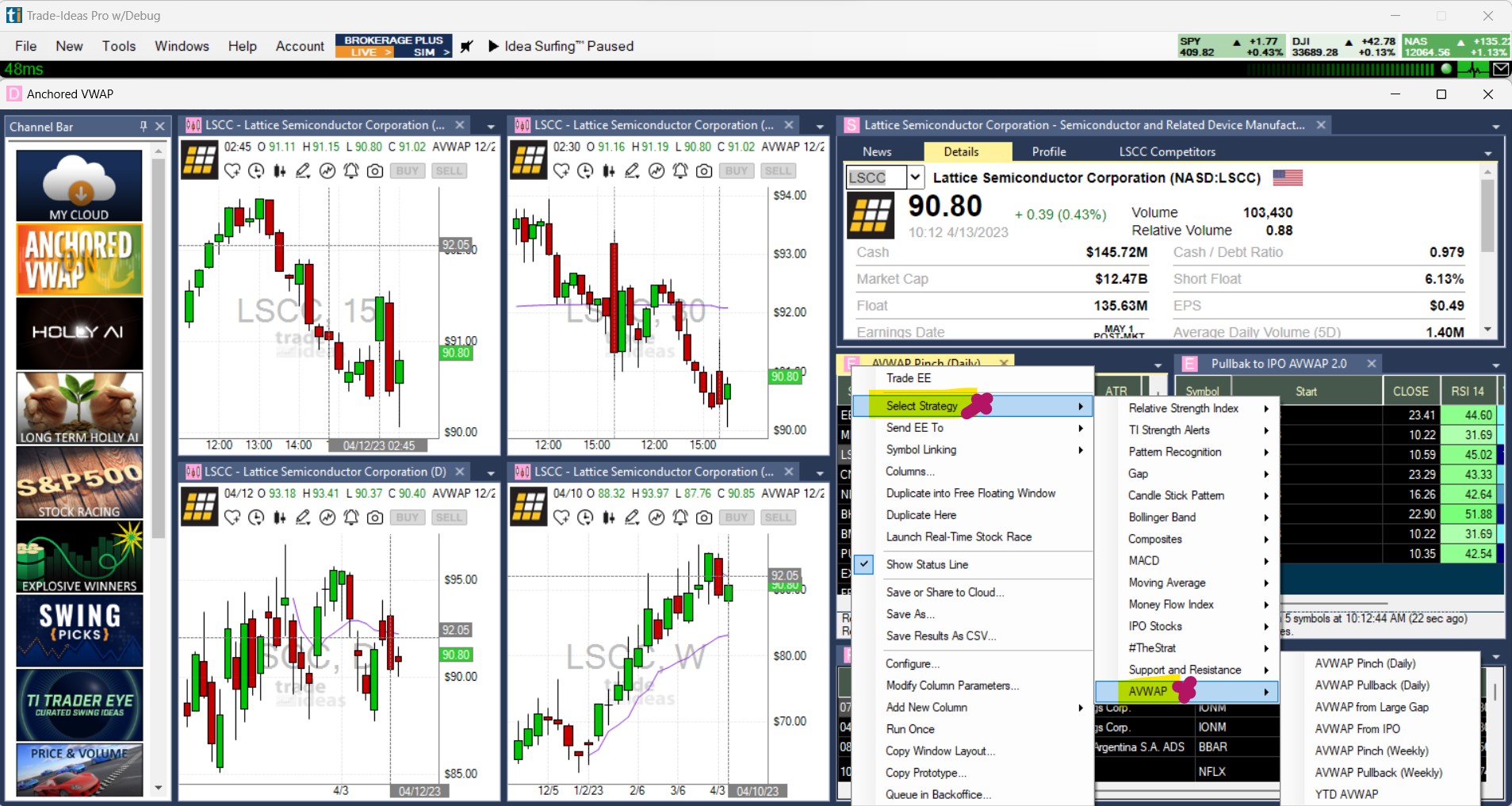 To load additional Anchored VWAP strategies without replacing the existing ones, follow these steps.
Go to the Toolbar, open the New Tab and select Market Explorer Window: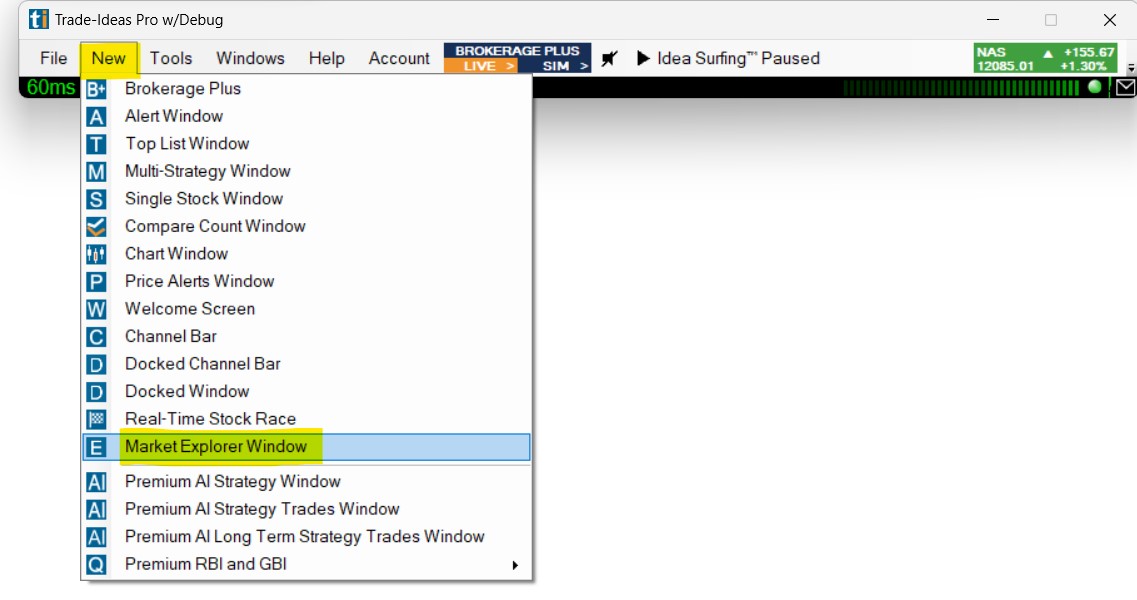 Next, right-click into the window, choose Select Strategy, then AVWAP and make a selection: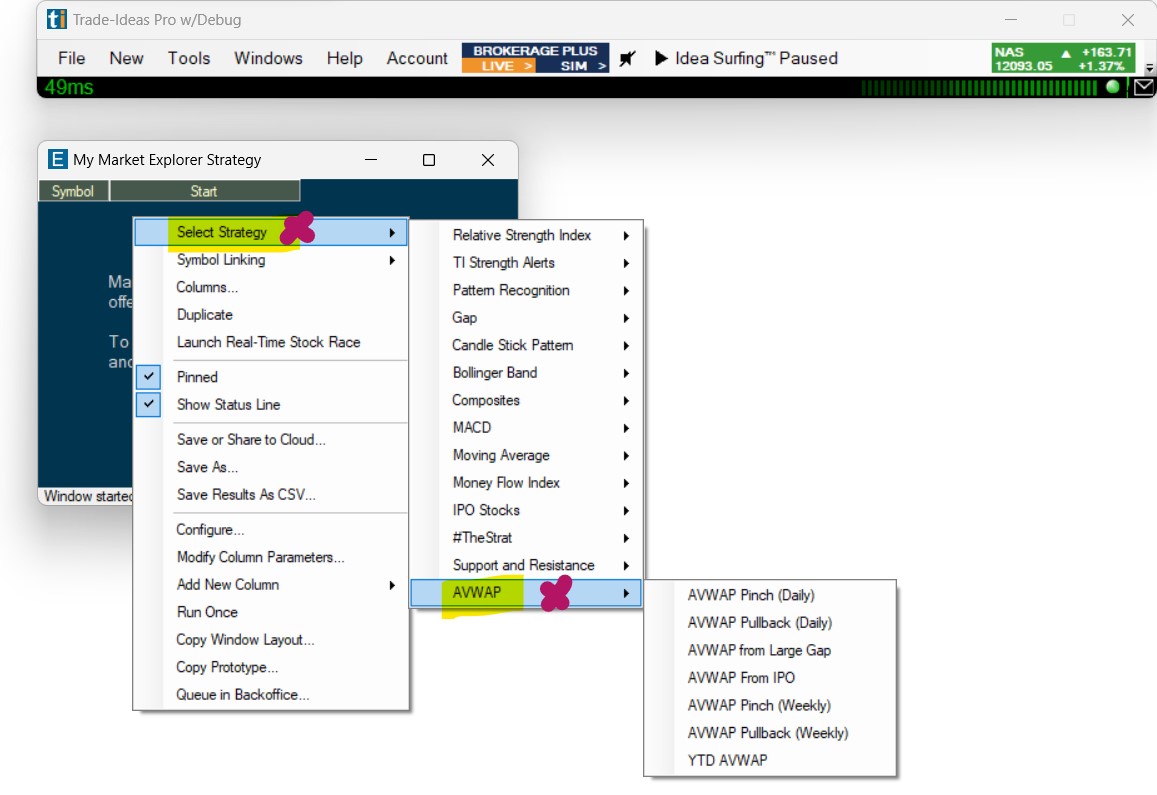 The selected scan will open as a free-floating window:

To incorporate it into an existing dock, right-click into the free-floating AVWAP window and select Duplicate into Your existing Dock Name:
To retain any changes made to the pre-built Anchored VWAP Channel, you will need to save this new layout to your cloud by right-clicking into the header of the docked layout and selecting Save or Share to Cloud: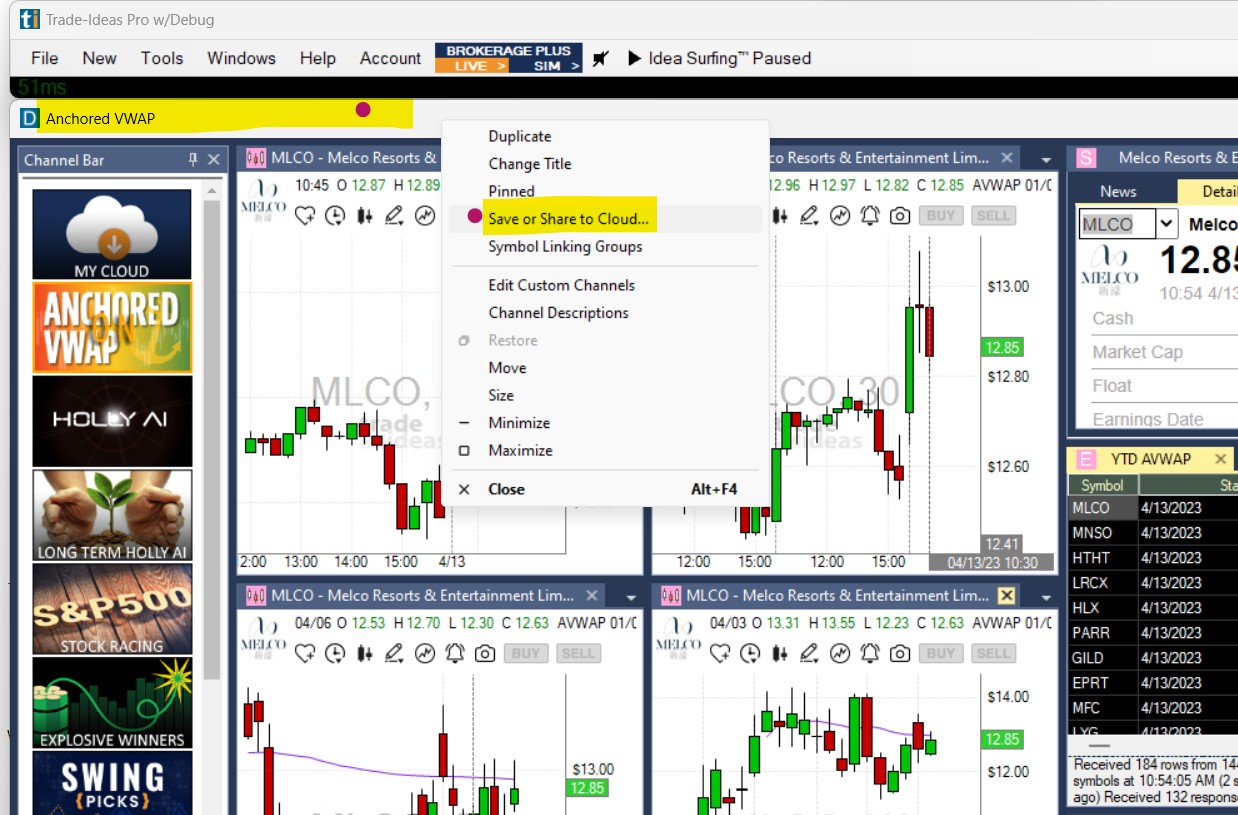 The pre-built Anchored VWAP Channel that can be accessed from the Channel Bar will always open the pre-built layout. To access your personal AVWAP layout, you will need to load it from your cloud after saving it with the changes you have made:

For step-by-step instructions on how to create, edit and save free-floating and docked layouts, have a look at these short videos:
The 6 currently available scans include the AVWAP Pinch as well as the Pullback to AVWAP.
The list of AVWAP setups will continue to grow and different time frames, in particular intraday scans, will be added.
Watch these two short videos of TI Trader Michael Nauss on how to find and use the AlphaTrends Anchored VWAP Market Explorer Windows in the Trade Ideas platform.
For a more in-depth intro, watch the replay of the webinar Fine Tune Your Entries With The Anchored VWAP featuring Brian Shannon, Michael Nauss and Steve Gomez.
The best way to learn more about successfully using the Anchored VWAP is to read Brian Shannon's book, Maximum Trading Gains with the Anchored VWAP.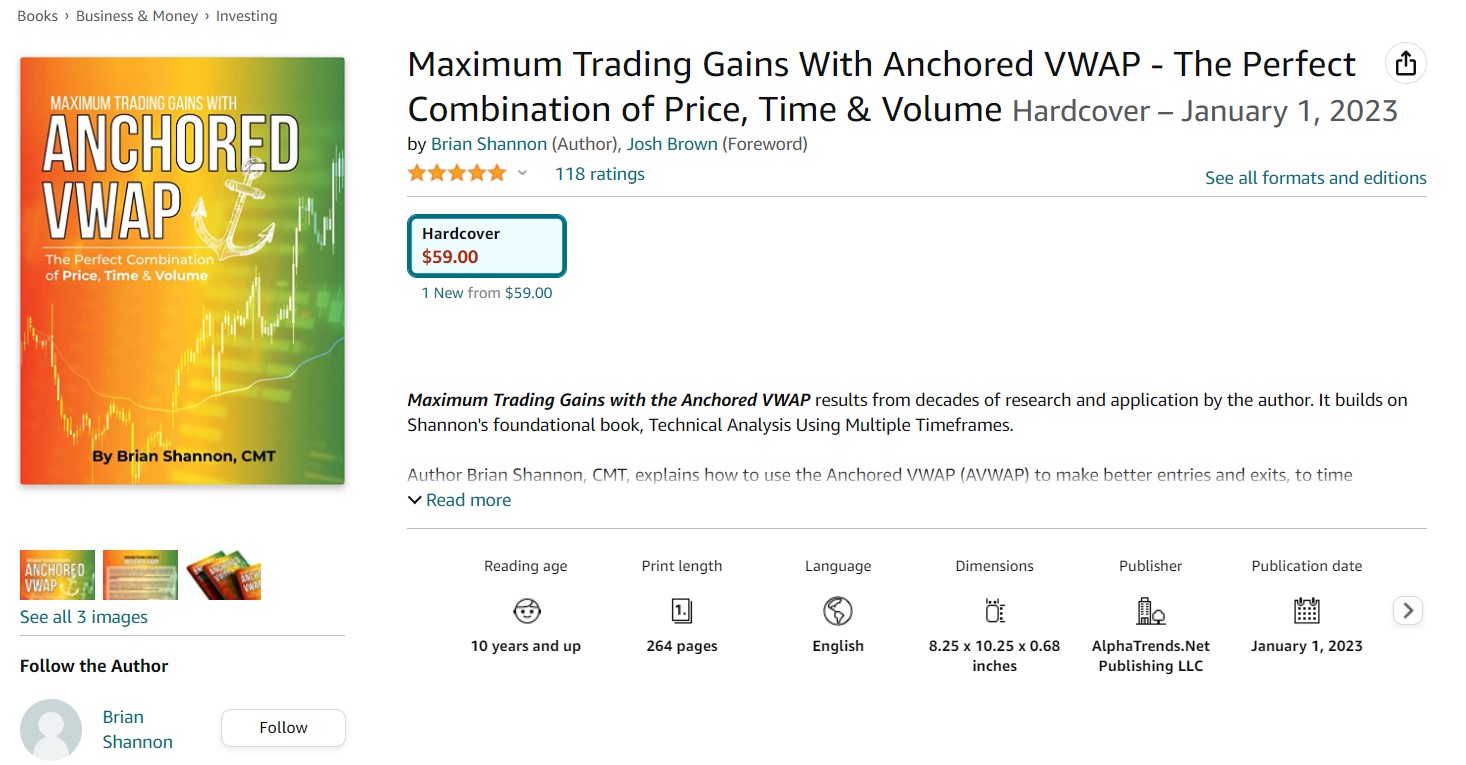 You can purchase it from the following booksellers:
Amazon, Google Books, Barns and Noble
Brian's book Maximum Trading Gains with the Anchored VWAP results from decades of research and application. It builds on Shannon's foundational book, Technical Analysis Using Multiple Timeframes. Author Brian Shannon, CMT, explains how to use the Anchored VWAP to make better entries and exits, to time breakouts and breakdowns, and to set stop losses.
Both new and experienced traders and investors will appreciate the book's insights and systematic approach to using AVWAP in a variety of situations including IPOs, support and resistance, market direction, short sales and squeezes, and financial news.
Every chapter includes solid advice on managing risk, which Shannon emphasizes throughout the book, "is Job One." Shannon is a trader's trader who avoids jargon. The book offers over 145 color charts, tables and case studies to set out a definitive framework for understanding the three most important components in the market: price, time, and volume. Readers will learn to work with the market's psychology and their own.
To get the AVWAP Add-On, head here
Please note: